The Diary of Anne Frank (1999) was a play production staged by a group of students at Ben Franklin Junior High School.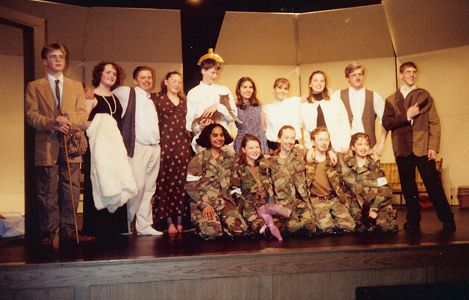 Plot Summary
Edit
When concentration camp victim Otto Frank returns to his former hiding place after the war he is given his daughter's diary. The story recorded therein of how he hid his wife, two daughters, the three members of the van Daan family, and a dentist Albert Dussel, in an attic from the Nazis for two years is shown in flashback. Their growing tensions, their food shortages, and Anne's falling in love with Peter van Daan are set against the backdrop of wartime Amsterdam. After two years the building is raided by the Nazis and all of its occupants are sent to their deaths in concentration camps.
Production Information
Edit
The show was completely produced by students. Andrew Grimm and Megan Hunter approached the administration about putting on the show. The show was so successful, many of the same students banded together the following year to do Clue (1999).
Photo Gallery
Edit