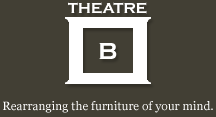 Theatre B is an independent theatre company based in Fargo.
A not-for-profit corporation, Theatre B's mission is to engage regional audiences through innovative theatrical productions that are culturally and artistically invigorating.
The company makes its home at the Theatre B, 716 Main Avenue, which was converted to a theatrical space specifically for the company.
Founding Members of Theatre B
Edit
Current Ensemble Members of Theatre B
Edit
2012-2103
Edit
2011-2012
Edit
2010-2011
Edit
2009-2010
Edit
2008-2009
Edit
2007-2008
Edit
2006-2007
Edit
2005-2006
Edit
2004-2005
Edit
2003-2004
Edit
External Links
Edit